A sweeping new symphonic suite in 5 movements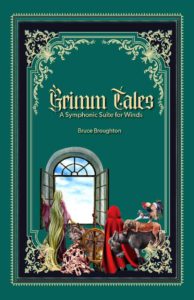 Bruce Broughton's latest work, Grimm Tales, is an opus inspired by the well-loved, and often creepy, stories by the Brothers Grimm. The five-movement suite for symphonic winds is evocatively dramatic and energetic, colorfully lyrical, and based on the unexpurgated original fables: "Rapunzel," "Little Red Riding Hood," "The Shoes that Were Danced to Pieces," "Rumpelstiltskin" and "The Musicians of Bremen." Brought to musical life are the witches, kings, princes and princesses, magical creatures and other sundry, odd and unique characters that populate these unforgettable fairy tales.
The 28-minute suite debuted at Carnegie Hall in June, 2023, in a concert by the Atlanta Youth Wind Symphony, and can be performed in its entirety or in a few movements at a time. All of the pieces are self-contained and are approximately five to six minutes each. The score and parts are available in PDF format from Brubel Music.